A bit more about us...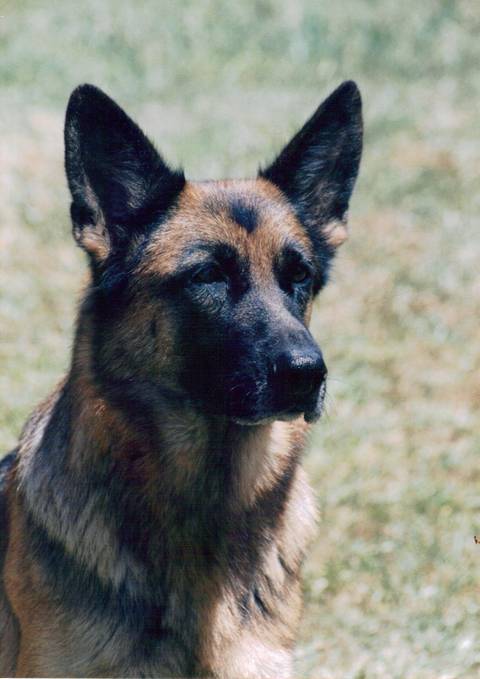 Pictured is Rena vd Wilhelmswarte 'a' ed normal BS Cl1.
Throughout our association with the German Shepherd Dog, we are constantly reminded of how priveleged we are to own these magnificant animals.
All of our current lines go back to the female pictured above, Rena von der Wilhelmswarte, a female we imported from Germany in 1997 from. Aside from a show career with many highlights, she went on to become for our kennel the cornerstone producer.
One of Rena's great grand sons, * Ch Siobahn Apollo (Geordie) has re-introduced sables to our kennel a colour we had lost and very much wanted to re-establish. Geordie fathered a litter to the beautiful * Ch.Vladimir Anarchy, which gifted us with he beautiful *Ch Vladimir Greyt Sensation.(LSC) iN 2014 he produced Kazkiri Bohemian Rhapsody (LSC) from*Kazkiri Suri and both are campaigning for our kennel at the moment. In 2012, we effectively became one of the first kennels to move towards producing Long Stock Coat animals; this happened more by accident than design when Geordie's best offspring were long coats.
As one of the few breeders in Australia with Sables, we are occasionally in a position to offer puppies of the original colour for this breed. These will of course only be Long Stock Coats.
Naturally, part of any successful kennel will be the standards it applies to breed improvement and quality control. There are established and proven systems in place, which we use as a basis for our breeding programme. We are members of the GSDL and support the breed improvement schemes developed by the German Shepherd Dog Council of Australia.
We have also supported the breed holding numerous voluntary positions, most recently four years as Editor for the Quarterly National Review of the GSDCA.
For this, and other services to the breed, we were proud to receive the GSDCA Service Award.
A German Shepherd Dog is not for everyone. These are active, intelligent and loyal animals, that can sometimes make you feel that they own you more than you own them. They have needs and if bred true to type, some generalisations about the breed can be made.
If considering this breed, we urge you to do as much research prior to a purchase and we are happy to help with any questions you may have.
Download the German Shepherd Dog - A Breed for Today (PDF File)
Contact Details
Yvonne Yun
Richmond, NSW, Australia
Phone : 02 45 721 727, 0426226138
Email :
[email protected]